*Addons Worlds and Packs for Minecraft PE*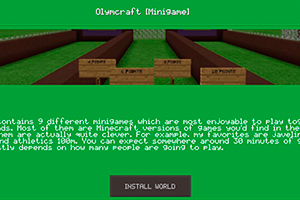 – Addons for Minecraft


– Addons for Minecraft

Installs Worlds and packs automatically with a click on your Minecraft Pocket Edition!
With this app you can add all the Worlds or packs that you want without any problems, there are no limits!
The only app with Addons with automatic installation on the App Store.
– Olymcraft
– Mine-car
– DireCraft
– Angry Animals
And many more …
We update every hour Addons and add new ones, you can also access the Worlds and Packs most famous in the world.
What are you waiting for to download it?
– Addons for Minecraft


– Addons for Minecraft

Review
Hundreds of addons. Great!

JoseJ
The best!

AdriA