*The only app that let you color every page for free!*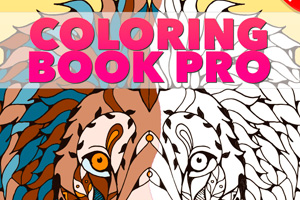 ** You do not need to buy anything to be an artist **
Coloring Book Pro


Coloring Book Pro Android

Coloring Book PRO offers:
– A wide variety of pages to color: we discover the most beautifully drawn images and organize them in more than 20 categories (animals, flowers, mandalas, faces, and much more).
– Lots of impressive contents to explore: Updated frequently with new images for free.
– More than 30 flawless color palettes defaulted with 8 colors in each of them.
– Customizable palettes: mix any kind of color you like;
– Multiple tools to color: Painting is as simple and enjoyable as it gets. You can also experience a real approach by using pencils and markers.
– Aftereffects: Add vignettes, change images' contour from black to white, or get rid of them altogether.
– Supports Apple Pencil.
Upgrade to PREMIUM and get unlimited access, while you are subscripted, to more filters, palettes and more exclusive features. Don't limit your creativity and choose any image you like!
Enjoy the pleasure of coloring with our PRO version: You will be able to color in the most relaxing and soothing way, since this PRO version doesn't use ads nor watermarks.
What are you waiting for to download it? It's free.
Coloring Book Pro


Coloring Book Pro Android

Review
The best Coloring Book ever!

Pacho7vlc
Muy buena app para colorear

JosssshSteward