The best skins for Minecraft PE & PC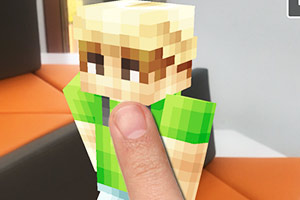 *** FOR FREE FOR A LIMITED TIME ONLY ***
Skins Minecraft AR

With Skins AR for Minecraft, you can download hundreds of skins and apply it to your Minecraft character. You can also automatically export them to your Minecraft without having to save them to the reel. It's the only app where you can do it right now.
All skins are organized by categories so you can do better your searches (New, Top, Girls, Boys, Animals, Heroes, Love, Professions, Games, People, Fantasy, Mobs …)
With Skins for MineCraft you can download all the skins you want and apply it to your Minecraft characters.
The app with more categories of the App Store.
– Full integration with Minecraft, export all your skins as a Pack directly into your Minecraft app (save saving them on your reel)
– New Social Network to share with your friends your favorite skins (Likes, Followers, Profile, Comments …)
– Augmented Reality (AR) so you can see your skins over any real object
– Real 3D Animations for Minecraft (Walking, Dancing, Running and Jumping)
– Install your skin directly in minecraft.net for PC version.
– PRO Editor with which you can edit each pixel of your skin.
– Builder to build your skin with parts of other skins. Easier? Impossible!
All skins you download can be applied to your version of Minecraft.
What are you waiting for to download it?
Skins Minecraft AR

Review
The best Skins ever!

Ana Lee
Great AR app

Juan J.