WidgetMania lets you customize your home screen like never before.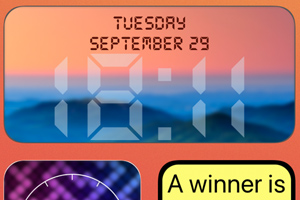 Custom Widget Maker
Widgetmania

You have available a wide collection of highly customizable widgets, you can customize widgets with your own Notes, Clock with date, Photos … Each widget can be precisely customized to fit the appearance you want. Look at the examples that we show you so that you know everything you can create.
This set of widgets can be customized to appear on your home screen by following the rules you define. This allows you to make the most of every space on the home screen. You can customize the background color or the image that you want, the widget border, choose from hundreds of fonts and much more …
The app itself also includes an extensive collection of tools, such as a weather app, a time zone converter, and a calendar. These tools can be started automatically based on the active widget that is touched.
Widgetmania

Review
The best Widget maker

RomeO
He probado otras, pero esta es la mejor con diferencia

Jhony