*Build your own Addon easily and simply*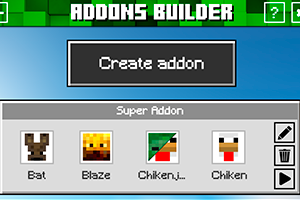 ** FREE ONLY 24 HOURS **
– Addons Builder for Minecraft


– Addons Builder for Minecraft

Customize your addon with multiple combinations. You can create millions of different addons.
Features:
– Choose from over 30 Mobs
– Create your own list of addons to use when you want
– Imports Minecraft with just the app
– Edit any addon as many times as you like
– You will have a Help so you do not have doubts
– Add to any Mob Special Behaviors
This and many more features that you can discover by yourself.
Examples:
– Have a mob teleport from one site to another
– Make a hen burn with the sun
– Make a donkey attack you
– Change the skin of a horse
– Make pigs afraid of you.
This and much more you can do with this app and make your Minecraft unique.
What are you waiting for to download it?
– Addons Builder for Minecraft


– Addons Builder for Minecraft

Review
Perfect. Great!

LuiSMI
Great! The best!

JuanJo