Papercraft for Minecraft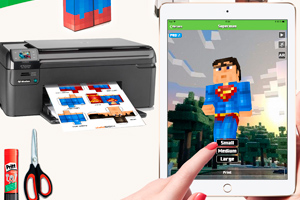 For Minecraft PE & PC
Papercraft for Minecraft


Papercraft for Minecraft

Papercraft, the best app in the App Store for printing your favorite Minecraft skins.
Print the skins you like the most, download now this amazing App and print any skin on your printer.
This is the App with more categories of skins in the App Store. More than 1,000,000 skins! All are manually created, designed by professionals.
With this App you will be able to:
– Choose from thousands and thousands of skins. All of them are organized by categories (New, Top, Girls, Boys, Love, Youtubers …)
– Print all the skins you want!
– Import skins: if you have skins in your gallery that you want to print, you'll be able to with this App!
– Preview in 3D!
– Real Minecraft animation in 3D (Walk, Dance, Run and Jump)
– Augmented Reality (AR) so that you can watch your skins over any real object.
What are you waiting for to download it?
Papercraft for Minecraft


Papercraft for Minecraft

Review
The best

Lu_33 x
The best app of Minecraft skins. I recommend 100%

VeGeTaX