*This is the perfect app companion for Fortnite*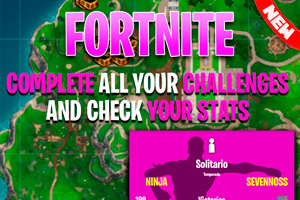 ** DOWNLOAD FOR FREE **
Tracker for Fortnite


Tracker for Fortnite Android

Follow your statistics and your friends. You can add your friends, youtubers, or even streamers to favorites.
List of players added to Tracker's favorite list:
– Ninja
– Twitch_Svennoss
– AlexRamiGaming
– TSM_Myth
Updated guides of weekly challenges to easily win your V-bucks
List of Emotes/ Dances, so you can watch them as much as you want.
These and many more features:
– Tracker to follow yours or other players achievements (Unlimited).
– Complete stats for SOLO, DUO, and SQUAD brackets.
– Compare stats of different players and share them on social networks.
– Updated maps with loot and weekly challenges, to know how to get them.
– Look and compare all weapons, to know which one to use in every situation.
– Supports PC, MAC, PS4, XB1
– Updated Guides for weekly Challenges.
– Fortnite News.
– Updated Store to keep track of sales wherever you are.
What are you waiting for to download it? It's free.
Tracker for Fortnite


Tracker for Fortnite Android

Review
Awesome app

LucaR33
Complemento perfecto para Fortnite! La recomiendo

LoEchesFlip